Don't have an iPhone ? But still want to use the iOS apps. Not to worry as today in this article I would be talking about the best of the iOS emulator for windows that you may use in order to run an iOS app or a game on your windows PC or Laptop. So if you were in the need of something like this then keep reading the article. I will list all iOS based Emulators which is available for Windows platform currently.
I am talking about the emulators, hence you might be thinking what exactly an emulator is ? And what exactly it does and why it is important to use and know about the iOS emulators. As like every article is result of a good research. So for this article on iOS emulators I have done my research and came to know that most of the emulators present in the market do not work. As a result of that I decided to write this article for my all the loyal readers. If you want to know more about emulators here is the wiki link.

What is an iOS Emulator ?
Before proceeding further let me give a brief information about the iOS emulator, and exactly it is and what it does and how we can use it. Basically emulator is a software that can create a background environment which is totally different from the current one. For example by installing an emulator on your windows device you can run iOS apps or games.With emulators and simulators, you can test run your apps while developing them and debug them.That is exactly similar to playing console games on provenance iOS on your smartphones.
Advantage Of using iOS Emulator
As you might be knowing that there are many apps and games that are released in iOS first and then in other OS. Prisma app was the prime example for this. And let me be also let you know that most of us cannot afford and iPhone. So what we have iOS emulator for windows that can solve our problem.  Beside all this iOS Emulator for windows are free to use and provided with the SDK with the release of every new operating system.Easy installation; requires no high-tech processor systems.
List Of Best iOS Emulator For Windows
I have done my homework on iOS emulators. Unlike other emulators present on the web, these emulators actually work. They will be easy to install and use. They will not require any high processor speed or anything of that sort. So I would recommend you to give each of them a try and decide which one of the ios emulator for windows works for you.
MobiOne
Mobi One is one of the best iOS emulator for windows that I have ever used. I personally feel that it gives me the freedom to use and test. The best part is that , you can run iOS apps and games along with android apps and games as well. Yes you heard it right, we can use both iOS and Android apps on it. You have the option to configure your app to run on iPhone and iPad, the funky option to app branding with custom icons,and sort view status of your app with the App Center Progress view and automatically download the app installation file on your computer on completion of a project. MobiOne Studio can be downloaded and installed easily for free on Windows PC.
You may download it from here.
iPadian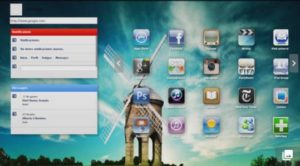 iPadian is another well known and widely used emulator that you can use. Millions of people have used and are using this as an iOS emulator for windows. With this emulator you will get the best of the feel of using an iOS device. This is very simple to use application. iPadian has two versions one if free and the other version is premium with a nominal price of only 10$. The best part of using the premium version is that you can use it completely free of ads. And it will run more smoothly and you will not feel any difficulty. also, Check Ios Version History from Wikipedia.
You may download it from here.
Air iPhone Emulator
This is one of the best emulators present in the market for Windows 7/8/8.1. It supports interface that looks exactly like that of an iPhone. They also give some of the basic apps like, Mail, Weather, Settings, Music, Web etc. can be accessed. By using this you can get the the best of iPhone experience which is really appreciable. You need remember, that Adobe AIR needs to be downloaded and installed for the successful functioning of AIR iPhone on your Windows device.
You may download it from here.
Xamarin Testflight
This piece of software has been developed by : Xamarin Studio. It is basically an emulator that lets you test and run all the iOS related applications. The main point that needs to be noted is that you can use the apps only that are above OS 8.0. This application is mainly famous among developers. As they can use it in sync with iTunes and test their app on this. But do not worry you can also use this if you are not a developer and you just need to run the apps and games on this. Using this studio you can also resolve all the app errors. While developing apps developer may face mane like there is a problem parsing the package and .apk not signed error. Hence we ca also test the applications and resolve all the errors for an iOS application.
You may download it from here.
MobiOne Studio
Last, but not the least. Mobi Once Studio is considered as one of the all in one applications when it comes to emulators. It is a bit technical to use.You can also say that it is an iOS emulator along with being an iPhone simulator for Windows. This also helps develop multi-platform mobile phone apps for both Android and iOS platforms. There is an option from where you can customize the icons of applications and check status of every application that you download on MobiOne Studio. There are some many options that you can use with this emulator such as, you have the option to do branding apps with self-designed icons, share app and webapp line through email which is very easy , create status alerts on desktop, get a peek of your app status using the AppCenter Progress View.
You may download it from here.
Over To You
I tried my best to present all the best applications that we can use as the iOS emulator for windows. By using all these emulators you can use any of the applications or games on your windows device, let be desktop or your PC. Hence I can say that your tech life would become easy after using these emulators. You can also visit Toptecheasy for other great tech related stuff. Here you will find all the solutions to day to day tech related problems.
I am Very Enthusiastic about Writing Tech, Smart Phones, Products Reviews, Offers, and deals. I have been writing on tricks5.com since 2015.